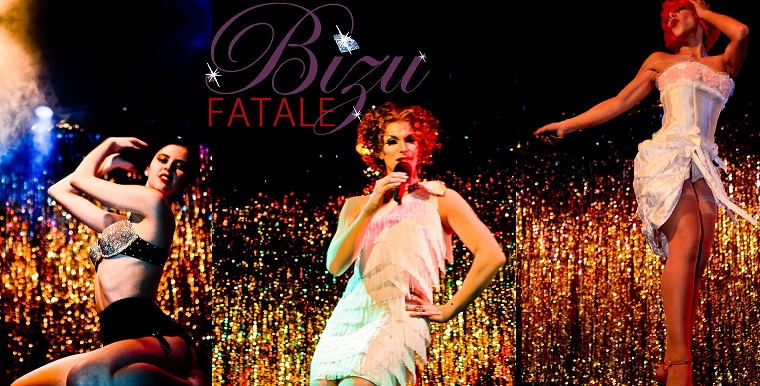 Bizu – Illusion & Vaudeville Cabaret
"The act is classy fun. Bizu is big, dazzling, cabaret. Allie Ho Chee's first act was quite daring. She performs ariel stunts suspended in a hoop above the audience." "Best audience response comes as Milo Miles sings 'I Don't Wanna Show Off No More' taking off his wig and make-up."
Ella Jean at Morlock Nightlife

Milo Miles interviewed on working with Alesha Dixon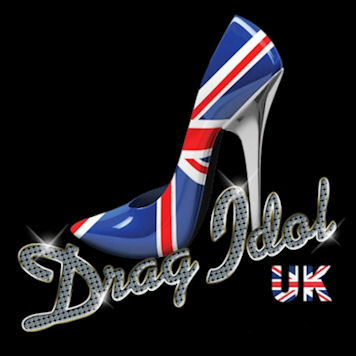 DRAG IDOL at the TWO BREWERS"Third act Milo Miles, glided onto the stage with the command of a Vegas showgirl, almost blinding me with the brightness of her sequins (stunning). This prompted the rather poetic comment from judge Myra Dubois, which made me chuckle: "I'd rather have very good classic style drag than shite new drag, love". Perfectly put I thought, in typical Dubois fashion, too."
Jason Reid, Posted on qxmagazine.com 15 May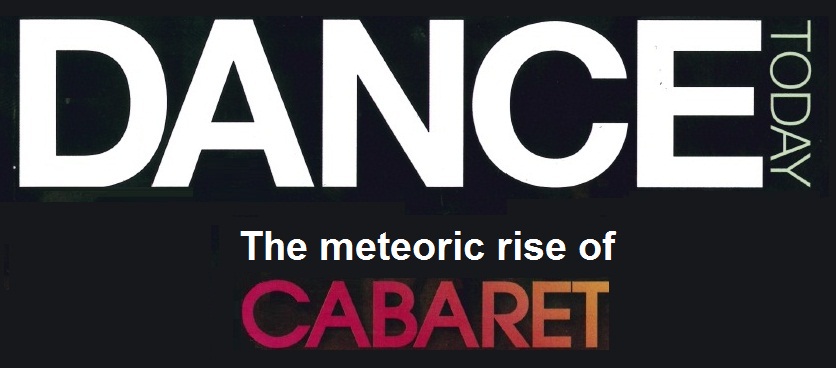 "Cabaret should be things that are exciting, (…) and unexpected." "(We) work hard on our shows, so that our audience wants either to be the performer or take the performer home." Read more…

Tainted Virtue at The Brickhouse
 "It was while talking to Milo and Leonardo at Top Hats and High Heels Cabaret at the Pleasance Theatre in the summer that I got the idea for the article I've just written. I interviewed them directly after the first performance in the run of Tainted Virtue, the final performance of which is on National AIDS Day on December 1st. I'm hoping to get a couple of tickets to this performance for a Dance Today prize. If it works I'll write about it here too."
REVIEW BY: Carole Edrich – Dance Tog

Elysium at Harvey Nichols Prism
 "Easily the best cabaret I've seen so far, it's also a dinner club and takes place in beautifully appointed rooms in the City. Milo Miles Productions' Elysium is well choreographed with good dance routines, fantastic voices, talented burlesque, gorgeous people, great laughs, interesting magic, great clothes and even some ballet (…) a charming and uplifting show". Go see it before it closes on Sunday."
REVIEWED ON: Dancetog.com.

Elysium at Harvey Nichols Prism
An interview with This is Cabaret
The enviable résumé of Milo Miles spans international productions for companies like Oslo Danse Ensemble, Goh Ballet, Vancouver Dance Theatre, ITV and L'Oreal, as well as annual benefit variety show The Red Ribbon Revue. The choreographer tells Franco Milazzo all about Elysium, his new cabaret show designed for Harvey Nichol's Prism Brasserie. Read more…
INTERVIEW ON: thisiscabaret.com

 Decades at Proud Cabaret – City
"Willkommen, Bienvenue, Welcome! Proud Cabaret and Idea Generation invited to the launch of an all new extravaganza, exploring the art of cabaret and burlesque through the ages at London's ONLY resident cabaret floorshow: DECADES.
"Directed and choreographed by Milo Miles exclusively for Proud, it features burlesque beauties and aerial artists only inches away from the seating area, teasing you through the decades from the roaring 1920's, swing and jive to contemporary pop-rock. This new show-stopping cirque-cabaret exclusive premiered on 21st September and is yours to enjoy for the next ten weeks only!
(…) It was an incredible night out and an incredible performance by all the artists involved "Meine Damen und Herren…Mesdames et Messieurs… Ladies and Gentlemen. Where are your troubles now? Forgotten? I told you so. We have no troubles here. Here, life is beautiful… The girls and boys are beautiful… Even the orchestra is beautiful. Auf wiedersehen! À bientôt!"
REVIEW ON: Film-News.co.uk

Cloud Dance Festival: Open Your Eyes at Jackson's Lane Theatre – July 2009
 Pangaea Dance Juliet and Romea – The opening of Juliet and Romea was vibrant and dramatic due to the well rehearsed unison and interesting costume. After such a strong start, however, it was disappointing that the coordination between the dancers became less tight as the piece continued, but the overall effect was impressive. The ballet structure of the company both spatially and hierarchically worked beautifully with the less conventional movement content. The sexuality issues explored could have been overtly suggestive and embarrassing to watch, but the balletic influences kept it just under the brink of "too much". It is fantastic to see so many dancers of varied backgrounds and ages all on one stage. Milo Miles' vision is to bring artists together to overcome boundaries; it would seem that he is already halfway there.
REVIEW BY: Anna Crofts – Cloud Dance Festival

 Some Past Coverage
Click on the thumbnail to enlarge.