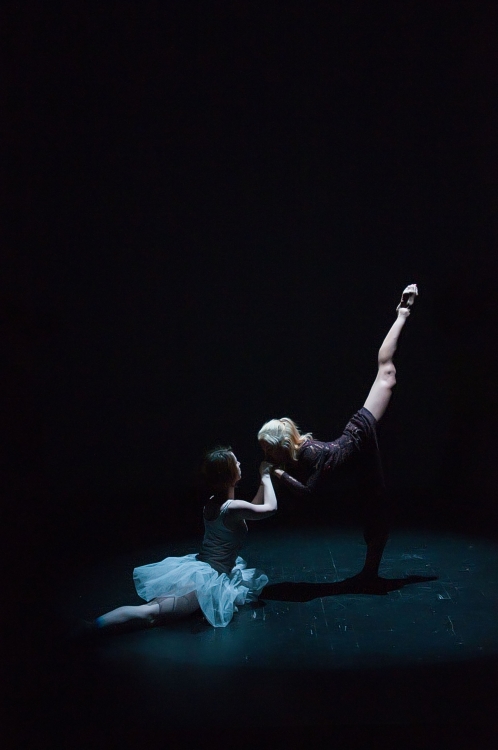 Muslim Juliet and Christian Romea; the clash of two cultures and love of two women.
Pangaea Dance (now The Milo Miles Dance Theatre) performed a 15min excerpt from their full-length production of Juliet & Romea, a contemporary reworking of the classic Romeo & Juliet with multiple twists in the plot. This Contemporary/Ballet/Jazz production was set to brilliant new music by the gifted young composer Alex J Steed and featured a cast of 16 young dancers.
Artistic Director Milo Miles brought this talented group of young dancers/teachers together to create Pangaea Dance. His aim is to develop an international touring company that employs dancers from different backgrounds to work together overcoming racial, sexual, religious and social boundaries. The aim is to one day audition & employ dancers from various countries. Pangaea Dance is a mix of Ballet, Contemporary, Jazz, Modern, Latin, Ballroom, Flamenco and Street. The company also uses elements of Musical Theatre, Martial Arts, Chinese Folk, Ukrainian and other National dances developing a new dance form; Pangaea or "Entire" Dance. Each talented member of Pangaea brings with them a wealth of knowledge having worked in both amateur and professional theatre with children, young people and the disabled. It is with this diversity that Milo Miles intends to create a truly unique company and centre with Pangaea Dance. Pangaea Dance from the Greek meaning "entire"; the supercontinent.
SYNOPSIS AND PROGRAMME NOTES
The scene is set at a large masked ball held by the Capulets – an affluent, progressive Muslim family. The ball is in honour of the imminent union of their daughter Juliet to Lord Escalus' son, Paris. This marriage promises great fortune and ratified status for both families. Paris in juxtaposition, not only possesses a secret and seemingly unrequited love for Tybalt, but is also silently fascinated by an intriguingly alluring, androgynous guest.
In the meantime, Juliet's heart burns brightly for a sworn enemy, Romea – a Montague, not Muslim and openly lesbian. Their love is impenetrable. Whilst Tybalt is disgusted by the nature of their relationship, he encourages it. Tybalt's motive quickly reveals itself – he lusts and yearns for Paris. Lady Capulet has grown weary of her arranged marriage to Lord Capulet and seeks solace in Paris. He goes to lengths to comfort her but finds himself embroiled in an incestuous relationship between the Capulets.
Mercútch provides us with light relief. His carefree, frivolous nature is what endears him to Romea. He was a great friend to her after Romeas' first love Rosaline committed suicide for being exposed as gay. Mercútch impresses upon Romea the necessity of enjoyment in life and experiencing every moment to its' maximum without fear of reprisal. With this spurring her on, Romea sneaks into the masked ball to be with her Juliet. She quickly becomes aware that the person toying with Tybalt's affections is none other than her best friend Mercútch. This fact of course is not immediately apparent to Tybalt, whose enlightenment will prove severe.
Meanwhile, Paris is being coerced into marriage with Juliet – the very idea of which she finds repugnant. It is Juliet's intention to convince Tybalt to reveal his true feelings to Paris and thus she may escape her betrothal. As the atmosphere of the party builds, our four lovers retreat and the guests foreshadow a dark sense of foreboding. Upon their return, the lovers find the party in full swing. Lord and Lady Capulet insist Juliet honour the contract with Lord Escalus to wed Paris. As Tybalt intervenes his lust for Paris can no longer be hidden and snatches the willing Paris away. Juliet and Romea steal a moment to experience a tender exchange, making it clear to them both that their hearts and fates are intertwined. As our four lovers return to join the party Mercútch continues to seduce Tybalt who finally discovers the truth and violently reveals his identity.
Concept/ Choreography/ Artistic Director:
Milo Miles Synopsis edited and written: Miss Alison Alexandra Ho Chee
Music:
Alex J Steed
Rehearsal Director:
Jessica Steed   CAST Juliet Capulet: Alison Alexandra Ho Chee Romea Montague: Jessica Steed Mercutch: David Murley Tybalt: Milo Miles Count Paris: Benny Maslov Lord Capulet: Anders Iversen Lady Capulet: Michelle Kane  
With:
Charlie Cameron, Chiara Castania, Hannah Frost, Julie Lynne, Lottie Croucher, Mark McManus, Sage Hood, Sarah Amos, Silje Rise.  
Understudies:
Anna Apisa, Emily Ayers, Ildy Minardi, Teresa Callan
Costumes:
The dancers  
Acknowledgements
Pangaea Dance would like to thank Danceworks for their sponsorship. Without their kind generosity this project would not have been possible.   Thank you to:   Sandy Strallen for being our "Resident Videographer". Strallen has spent countless hours archiving our rehearsals and making our first "fly on the wall" Pangaea Dance documentary.   Rolfe Klement of Creative Sunshine for his Videographic Talents. INC Space for their kind donation of space for our Dress Rehearsal. Leonardo Greco for his Company Logo design. David Burton for his Graphic design talents in putting together our program. Melorie Chilton of Chilton Media Law.