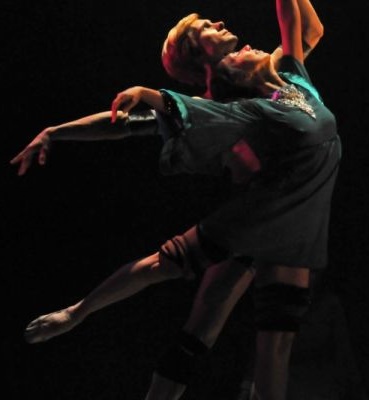 The Milo Miles Dance Theatre (formerly Pangaea Dance)
The classic story of slavery, love, treachery, lust, mutiny, betrayal and murder is "Spartacus". The Milo Miles Dance Company (formerly Pangaea Dance) world premiered an excerpt from his exciting new production of Khatchaturian's "Spartacus" at the 2010 summer Cloud Dance Festival. His unique company blends Ballet, Contemporary, Jazz, Modern, Latin, Ballroom, Flamenco and Street. Elements of Musical Theatre, Martial Arts, Chinese Folk, Ukrainian and other National dances are also evident throughout MMDT's work. This truly International Company features 18 dancers from across the globe that includes: Australia, Canada, England, Italy, Norway, Poland, Russia, Scotland and South Africa.
SYNOPSIS & PROGRAMME NOTES
Batiatus' Gladiator school in Capua near Rome.
Thracian prisoners have been sold, which include Spartacus and his wife Phrygia. Phrygia has been bought by Crassus, commander of the Roman army to serve in his depraved court under his mistress Aegina. The wives, that evening lament for their husbands that may at any time Be summoned to fight to death the next day. Fearing that she will never see her beloved Spartacus again Phrygia begs him to escape together.
Meanwhile Aegina who has cares only for power, money and dissolute living has become bored with Crassus. Both have grandiose political ambitions; he uses force and she her wits. She decides to try and dominate him sexually and toy with his emotions by seducing the new gladiators. Venting her hatred of Spartacus, Aegina persuades Crassus to order Spartacus and his life-long friend Oenomaus to fight. During an orgy two blindfolded gladiators are pushed towards each Other sentenced to their fate. The victor reveals himself as Spartacus who is distraught at having killed his friend Oenomaus. Phrygia who will now be permanently separated from her beloved Spartacus manages to free herself for what may be their last meeting.
Spartacus urges his fellow slaves to revolt and fight for freedom. They swear to follow him while Crassus swears to conquer and crush all who stand in his way. It is said that 6,000 prisoners were crucified along the Via Appia from Rome to Capua when Spartacus was finally defeated.
The Milo Miles Dance Theatre was proudly sponsored by Danceworks and the Du Boisson Studios
Artistic Director/Choreographer:
Milo Miles
Music Editing:
Alex J Steed  
Composer:
Aram Il'yich Khachaturian
Recording:
Deutshes Symphonie-Orchester Berlin
Conductor:
Michail Jurowski – 1998 Capriccio-Delta Music   CAST Spartacus: Benny Maslov Phrygia: Michelle Kane Crassus: Milo Miles Aegina: Julie Lynne Oenomaus: Sandro Franchini   COMPANY Emily Ayers, Neil Brodrick, Teresa Callan, Chiara Castaniav, Hayley Downing, Hannah Frost, Monika Koscian, Mark William Mcmanus, Ildy Minardy, Silje Rise, Frank Simms  
Répétiteur:
Sandy Strallen
Rehearsal Director:
Julie Lynne
Men's Costumes:
Diane Harvey White  
DEVELOPING COMMUNITY AIMS
Milo Miles Dance Theatre would like to encourage children and young people from all backgrounds particularly disadvantaged ones to discover the performing arts. By developing links to community, youth and children's centres we would use the expertise of our dancers and teachers to develop community programmes. Classes, courses, workshops and seminars would provide young people with various opportunities depending on their level of engagement including a "direct feed" into our Dance Company. Our programmes would encourage and support young people to get off the streets and develop new skills while giving them a sense of direction. By developing new skills individuals would be able to identify potential career options. They may choose from multiple opportunities in the arts or to use their skills in other fields.