BIZU CHRISTMAS SPARKLE
& F.O.N.O. AFTER-PARTY
2015

Be captivated by hosts Milo Miles and the effervescent Allie Ho Chee who orchestrate London's freshest frolic through cabaret and illusion. Featuring magicians Dee Riley & Siegffried Loew as regular guests and burlesque artists Bonnie Fleur & Tickety Boo. With acts that vary from Circus to Vaudeville, you'll never see exactly the same show twice or know what to expect. Which will keep you coming back time and time again!
________________

London's Newest Secret. Clubbing, with a strict policy of frivolous shimmering glamour. Where the who's who and paparazzi are clamouring to get in the doors. Follow our Facebook pages to see when the next Bizu & F.O.N.O. party will be.
---
BIZU CABARET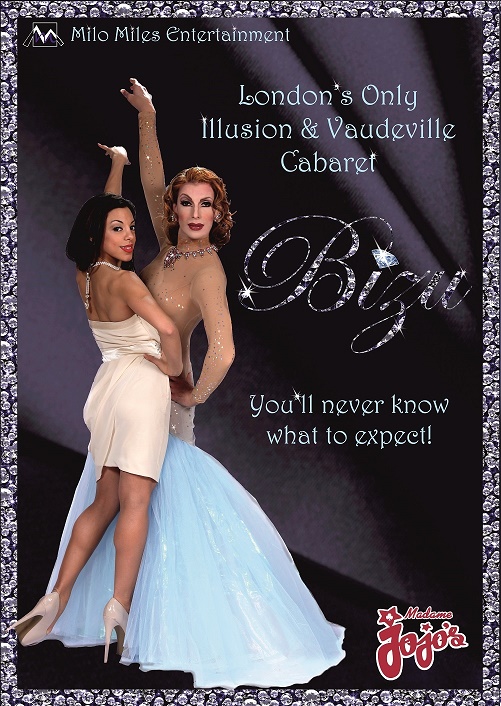 Bizu & Bizu Fatale were London's original and only Vaudeville & Illusion shows hosted by Milo Miles and the effervescent Allie Ho Chee. These weekly romps at London's historic Madame JoJo's had a bevy of talented 'Mystery Artists' who included magician, comedian Dee Riley and temptress burlesque artist Bonnie Fleur.
Morlock Nightlife's Ella Jean wrote "The act is classy fun. Bizu is big, dazzling, cabaret. (…) Milo Miles is a charming host with a great voice. (Dee Riley) is all jokes. He captivated the audience with his cockney wit and self-deprecating jokes about his gothic androgyny."
Similarly, blogger Ciaran McCormick tweeted "What a fantastic talent Allie Ho Chee is, can sing, dance and do things with a hoop that defy joint stability!"
Hollywood
Bizu 'Hollywood' hailed the golden age of glamour with graceful, gravity defying aerial hoop performances by Allie Ho Chee and Milo Miles' energetic on-stage metamorphosis from glamazon diva to silver screen leading man delivered to an awe filled audience. Charismatic cheeky chappie Dee Riley enthralled all with his effortless sleight of hand and gasp out loud magic. The hosts' version of Marilyn Monroe and Jane Russell's "Two Little Girls From Little Rock" was such a huge hit that Monroe and Russell were back for the launch of Bizu Fatale to commemorate Marilyn Monroe's Birthday on June 1st.
Fatale
Bizu Fatale was filled with darkness, comedy, subterfuge, awe inspiring circus acts and sexy femme fatales belting around the bordelles of Berlin and slinking through the gin joints of Chicago. Recording artist Clara whose lead vocals are heard on hit single 'Superfine' released by KMS records brought the house down with her rendition of 'Somewhere Over The Rainbow'. With a plethora of fabulous mystery guests, both Bizu Hollywood and Bizu Fatale were magical playgrounds with audiences expecting the unexpected!
---
---